Zone Parking
On-street parking places in central Belgrade are in time-restricted zones, while parking in areas with lower demand is not time-restricted.
On-street parking in zones with time restrictions is divided into four hourly zones, limited to a maximum stay (half an hour, one hour, two hour and three hour):

Zone A – 30 minutes

Red zone (1st) – 60 minutes, extended parking time 30 minutes

Yellow zone (2nd) – 120 minutes, extended parking time 60 minutes

Green zone (3rd) – 180 minutes, extended parking time 60 minutes
After the parking time expires, the vehicle cannot be parked in the same zone in the next 30 minutes.
Parking charges in zones apply Monday to Friday, 07.00 till 21.00; Saturday 07.00 till 14.00. Parking on Sunday is free. After 17.00, Monday to Friday, there is no charge for using approximately 400 places in the third zone (green zone) around the Clinical centre of Serbia. Places are located in following streets: Pasterova – from Resavska to Bulevar oslobođenja, dr Subotića – from Deligradska do Bulevar oslobođenja, and in Deligradska – from Pasterova to dr Subotića).
Special benefits apply to parking of vehicles for people with disabilities. Read more about the zonal parking system in the Frequently Asked Questions.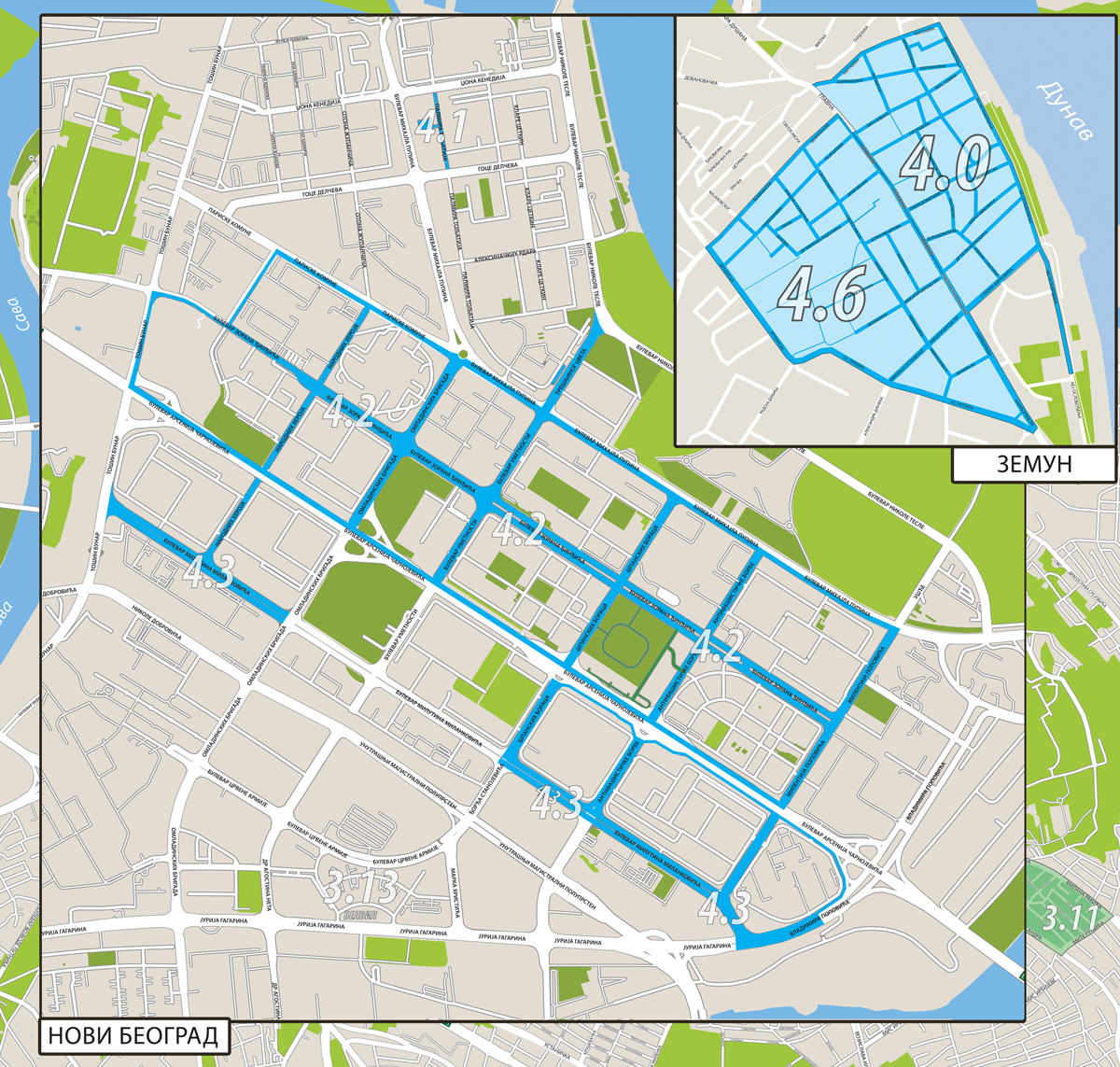 A zone without a time limit (so called blue zone) enables parking to be paid for as long as needed.
Parking charges Monday to Friday from 08.00 to 21.00, Saturday from 08.00 to 14.00, according to vertical traffic signs.
Special benefits apply to parking of vehicles for people with disabilities. Read more about the zonal parking system in the Frequently Asked Questions.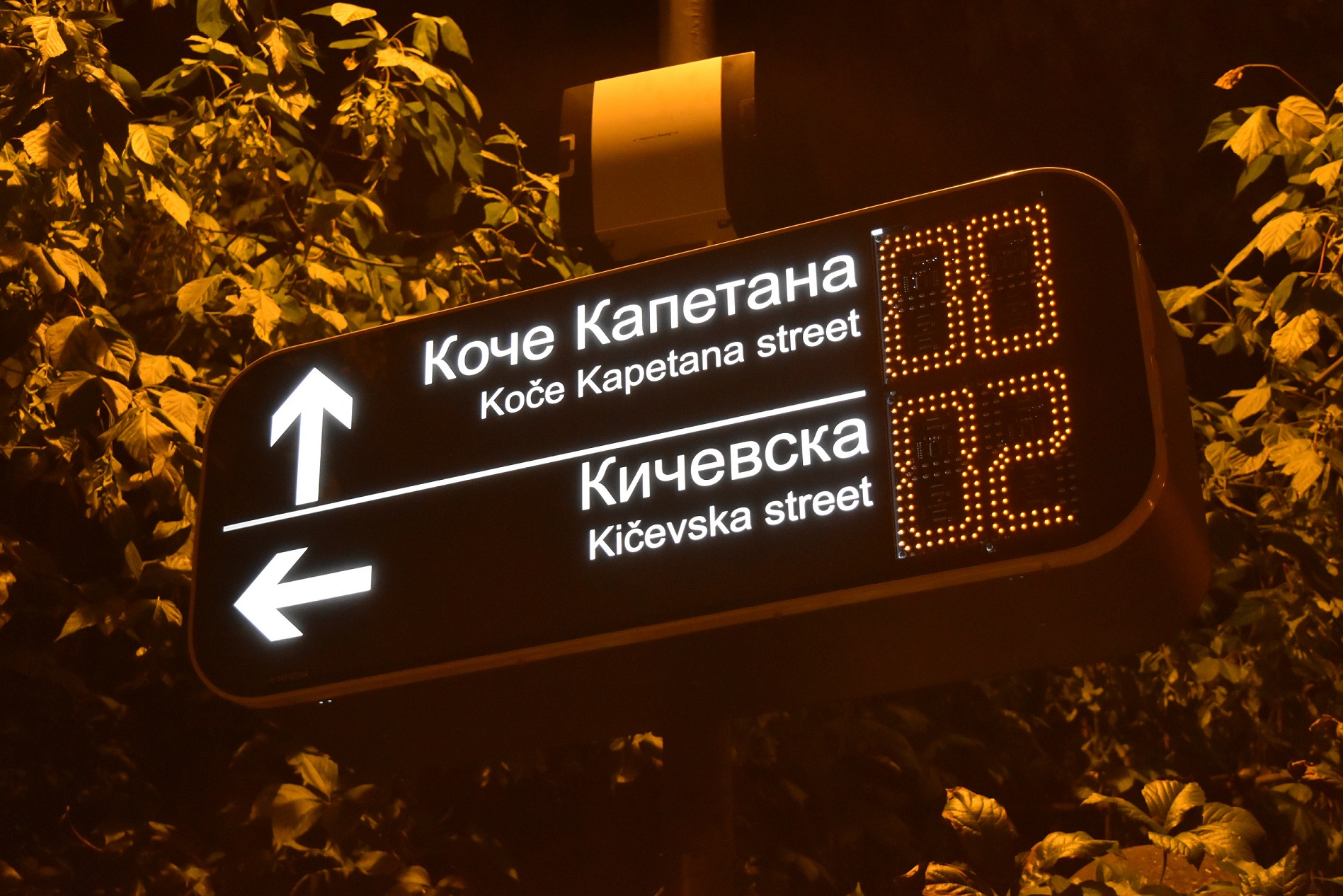 More then 5.200 parking sensors are deployed throughout the streets belonging to the zone parking system providing accurate information on available parking spaces. The parking sensor is located on the parking space detecting car presence or absence and sending information whether the space is available or occupied on the Info-boards installed at crossroads.
The new Parking System that guides drivers to available parking spaces was first integrated in 2016 in the area around Njegoševa Street, in Belgrade. Since then the System has expanded to the other parts of the city including streets bordered with Beogradska, Кrunska, Baba Višnjina and Bulevar kralja Aleksandra, in the area of Clinical Center and Bulevar oslobođenja, as well as part of the city bordered with Cara Dušana, Francuska, Vase Čarapića, Studentski trg, Uzun Mirkova i Pjarona de Mondezira Street.
In order to provide valid data for a parking sensor system, drivers must properly park their vehicles at a precisely marked parking space, above the sensor itself.
PARKING APP
The unique application for mobile phones makes it easier to find and pay for services in the zone parking system. Automatic locating, three different payment methods and receiving vehicle status information are just some of the benefits provided to users by the Parking Application.
SMS Car Parks
SMS car parks represent car parks with a control system and parking payment performed as such in zoned area of the city. Working hours: 00-24 h (365 days a year).
SMS car park "Sava promenada"
Address: Hercegovačka Street
Spaces: 90
Payment:
SMS – Text is sent to one of the following numbers:
8117 – per every commenced hour of parking (70 dinars per hour)
8110 – for several hours – valid from moment of sending the SMS until midnight (630 dinars per hour)
Payment via parking app
Payment by еParking ticket
e-Daily parking ticket (eDPT) is issued to users who haven't paid for the parking service in advance (parking ticket not paid) and also to users who have expired limited (extended) parking time.
The order for vehicle clamping is issued if the e-Daily parking ticket is issued for a vehicle with foreign license plates and it is determined that there are due receivables for at least two e-Daily tickets for the same vehicle.